What Do Hotels Do with Old Mattresses?
Disclosure: We may get commissions for purchases made through links in this post.
We stay in hotels to relax or to attend corporate events, family reunions, and a lot more life milestones. As you rest in that soft, comfortable bed, you may have wondered how many people have been on that same mattress. You may have also wondered how often do hotels change their mattresses. Then you come across this unusual yet sensible question:
What do hotels do with old mattresses? Old mattresses from hotels are usually sent to mattress recycling facilities. Recycling is an eco-friendly way to reuse and repurpose these beds. It prevents them from ending up in a landfill. Old mattresses turn into useful things such as carpet padding, mats, upholstery stuffing, and more.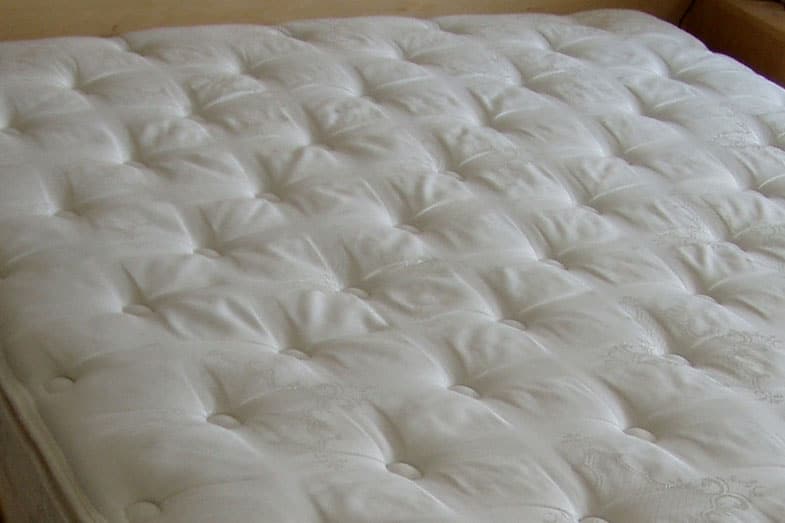 What Do Hotels Do with Old Mattresses?
1. Recycle
Hilton Worldwide has their own mattress recycling program, which is part of their mission to reduce waste output. Hilton's old mattresses turn into useful things such as carpet padding, mats, pillows, upholstery stuffing, flooring, pressed wood products, construction materials, and much more.
2. Send to Landfills
Some hotel establishments do send their mattresses to a landfill, which is not advisable for bulky and hard to compact beds.
3. Donate
There are hotels that donate mattresses to charitable institutions.
4. Sell
Lastly, some hotels sell their worn-out mattresses to other hotels. Hotels change their mattresses on an average of 3 to 5 years, so it's essential to know where these beds go during the transition. No matter how beautiful a hotel is, a broken or dirty mattress can ruin its reputation. It's a relief to know that these beds do get replaced and the old ones are sold or recycled.
What Mattress Do Hotels Use?
Beds are one of the major highlights of every hotel room. More than the interiors and the service, a beautiful and comfortable bed can complete the entire hotel experience of any guest. If you've wanted to know why hotel beds are so cozy and what type of mattresses they use, take a look at the list below.
This list features hotels frequently asked questions and tips on where you can find hotel-quality products for a good night's sleep even when at home.
The Ritz-Carlton
One of the best things about this prestigious hotel is its custom-designed bed manufactured by Stearns & Foster. This hotel ensures guests of an effortless and rewarding sleep every time they check-in.
How Do Hotels Make the Beds so Comfortable?
Their signature mattress offers the most excellent materials that embody luxury and style. It features a state-of-the-art coil technology that will make you feel like sleeping in the clouds. Also, this plush-top mattress is made from an elegant fabric and gel memory foam that is guaranteed to give you a memorable experience.
A great bonus is the pillow-like surface of their featherbed topper that provides guests with added comfort while they sleep. They also have high-quality linens, custom-made pillows, and down pillows to help complete the experience of a lifetime.
Luckily, Ritz-Carlton mattresses are now available in their online store. It is their way of enabling people to create the bed of their dreams, even within the comforts of their own home.
If you want to get ahold of the hotel experience, you can always start with a set of fabulous pillows. For great hotel-quality pillows, check out Emolli Queen Bed Microfiber Pillows (view on Amazon). This pillow brand is hypoallergenic and breathable, with a 100% cotton case.
Hilton Hotels
Aside from the Hilton Hotel's exceptional advocacy when it comes to waste management, they also have a line of luxurious beds to boot.
What Kind Of Mattress Is Used In Hilton Hotels?
This luxurious hotel uses a Serta-made bed called Hilton Serenity Mattress. It is specially designed with extra coil support that prevents damage and breakdown. This plush mattress is made from the best materials to ensure comfortable and sound sleep for everyone.
Everything is detailed and made with high standards, from the mattresses up to the Hilton linens, pillows and bed essentials. The hotel has made these items available to the public through its online store.
To get a hotel-like experience, you can also purchase hotel-quality bed sheets for you and the whole family. Check out CGK Unlimited Queen Size Hotel Luxury Bed Sheets (view on Amazon), a top-rated brand in Amazon. It contains six sheets composed of 4 pillowcases, flat sheet and fitted sheet that are cool, breathable and silky soft. These are made from high-quality double-brushed microfiber yarn.
Marriott Hotels and Resorts
This hotel is a go-to for people looking for a relaxing place with lush amenities and ultra-comfortable beds. They also feature an online store that showcases its top quality mattresses, linen sets, mattress toppers, duvets, and other bedroom essentials.
The Marriott Bed has pocketed coils for lasting support topped with a 300-count cotton flat sheet and astonishing duvet designs. It is also built with high-density foam layers that support sleepers of every type.
An exceptional sleep awaits you when you purchase hotel-quality bed essentials inspired by Marriott Hotels. Check out Exceptional Sheets Pillow top Mattress Pad with Fitted Skirt (view on Amazon), a Queen-size mattress pad made from soft and breathable polyester fiber. It is a hypoallergenic product that will help you achieve a revitalized sleep every night.
Westin Hotels
For over 20 years, Westin Hotel's Heavenly Bed has provided customers with a comfortable and sound sleep that is like no other. This Simmons-manufactured bed has a pillow-top mattress, reinforced edge support, and individually pocketed coil for premium comfort and durability.
They also have a perfect mix of feather and down pillows to make your stay more relaxed and memorable. They also have a matching heavenly dog bed that is perfect for your furry friends.
Comfortable Mattress
Try searching online, and you will see that Westin Hotels belong to the prestigious list of hotels with the best and most comfortable mattresses. They've been providing better sleep for two decades already, so it's no wonder why this establishment is well-loved by many.
Aside from the regular bed essentials, the hotel also offers other items for recreation and relaxation. You can also find them online and recreate the total Westin experience right at your home. Check out Westin White Tea Scent Diffuser (view on Amazon), a scent machine that produces a clean and refreshing white tea scent with elements of vanilla and woodsy cedar.
W Hotels
Another Marriott trademark is their line of W Hotels, a luxury hotel chain that continues to provide better sleep to people of all ages.
Simmons manufactures W Hotel mattresses; that is why you can also see this hotel chain listed in the best beds category. Their mattresses are durable and elegant, topped with quilted and plush mattress pads for that one-of-a-kind sleep experience. Its pocketed coil support provides a deep and comfortable sleep that you'll love throughout your stay.
A good night's rest is all about the make and feel of your mattress, pillows, beddings, and your surroundings. You can also buy other high-quality mattress tops on Amazon that guarantee comfort and relaxation during sleep. Check out Duck and Goose CO Plush Durable Premium Hotel Quality Mattress Topper (view on Amazon). This product will let you feel the warmth, softness, and luxury found only in top-of-the-line hotels.
Since we're on the topic, there's another question that usually pops up when people talk about items in hotels that are for disposal.
What Do Hotels Do with Old Furniture?
When hotels go through renovation due to an upgrade or redecoration, they usually change the entirety of the place, including furniture. They typically sell the old ones through a liquidator or sell it to a used furniture wholesaler. This means that you can get ahold of old hotel furniture through online or physical shops.
Other hotels donate their items through a waste match process or recycle them to promote proper waste management practices. While some still end up in landfills, it is a relief that others are trying to make smarter choices by finding new purpose and meaning for these treasures.
What Do You Do with Old Mattresses?
Now we've figured out where old hotel mattresses go and where you can buy hotel-quality bed essentials. This time, let me share with you what you can do with your own old mattresses at home.
Old beds can also be donated to organizations such as The Salvation Army, Habitat for Humanity or Goodwill. You can also send them to recycling companies so they can be recycled and repurposed. A local landfill is also an option but try to look for greener and eco-friendly ways for used mattresses and other things at home.
On your next hunt for a new bed, keep in mind that low-quality mattresses last for 5 to 7 years and high-quality ones last for ten years.