How Much Weight Can a Pop Up Camper Bed Hold?
Disclosure: We may get commissions for purchases made through links in this post.
Pop-up campers offer a great way to experience the outdoors. They're often smaller than travel trailers, and generally more affordable. Due to their size, though, you may be wondering how much weight the beds can hold?
How much weight can a pop up camper bed hold? The average pop up camper bed can hold a weight of 1,000 to 1,200 pounds. Depending on the brand, this may differ. Pop up campers will have a manual where you can check for standard weight and capacity limits.
If you're new to pop up campers, or just brushing up your knowledge, here are some tips on getting the most out of them.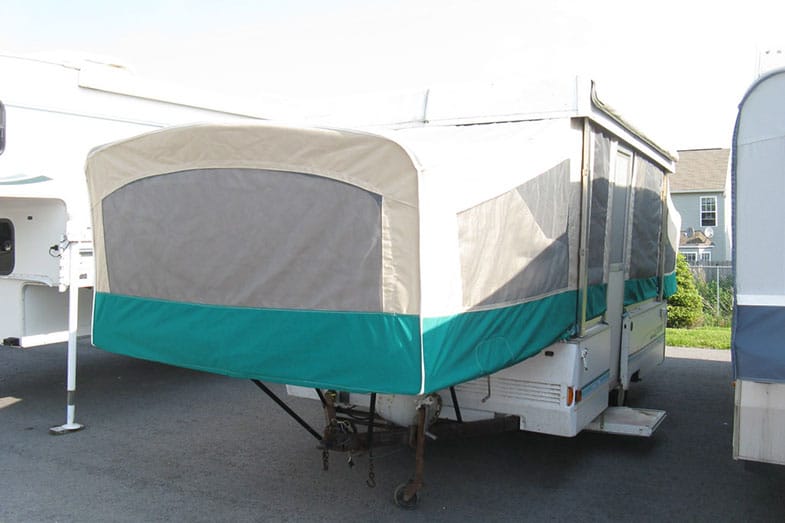 What Is a Pop Up Camper?
A pop up camper is a towable type of recreational vehicle used by many campers and outdoor enthusiasts. You can bring a pop up camper anywhere, collapse and store it if you need more space.
One of the big draws with pop up campers is their affordability. Its small size also makes it easier to tow than any other type of RV. A traditional pop up has a trailer frame, a box, roof, pull-out bunks, and walls. The walls are usually made of vinyl or canvas.
Pop up campers are like real-life houses. You can find a dinette, a water tank, a power system, storage banks, fridge, air-conditioning, water heater and more in it. With all these amenities, there's only one thing missing, a pop up camper bed!
Newer vs. Older Models
According to many campers, newer pop up camper beds can hold as much as 1,200 pounds on each end. Campers also noted that they never had a problem with their bunks, even when the little ones bounce on them. Newer models can handle this weight, but older models, such as ones built in the 90s, can hold as much as 700 pounds.
Buying second-hand pop up campers is common among outdoor travelers. Make sure to check the manual before purchasing. If you didn't receive one, contact the company and ask for one. You can also check their website by searching for the make and model of your camper.
How Much Does a Pop Up Camper Weigh?
Knowing the weight restriction of a camper bed is useful so that you can prepare ahead of time. With regards to the actual pop up camper itself, also take note of its weight so that you can better plan your trip.
Pop up campers can weigh anywhere between 600 to 2,800 pounds. Compared to large travel trailers, pop up campers are smaller in size and are highly compact. They also fit what you need, and can be folded. If you want to go boondocking, pop up campers are your best bet – they are light, easy to tow and move around.
Tire Leveler
For convenience, you may want to invest in a tire leveler so that you don't have to use blocks or ramps. A tire leveler helps anchor your camper without having to worry about it shifting or moving around while you sleep. Most come with a ratchet so that you can easily elevate and lower the tire position. Additionally, using a leveler makes it easier to move locations. So if you just set up camp but realized that there's a better view up ahead, it's easy to make a quick adjustment and be on your way.
Extra Support for King-Sized Beds
Despite having standard weight capacity limits, pop up campers can still collapse. For instance, variable factors such as your playful dog may add a bit too much weight to the overall limit. Make sure to prepare beforehand and have extra support for a king-sized bed. Below are some support tips that you can use on your next camping trip.
Use a ratcheting cargo bar to add extra support for the bed. You can make a screw-type adjustment to strengthen ground support with 2x6s. Check out Keeper's Ratcheting Cargo Bars (view on Amazon).
Make a T-shape in the front bunk and H-shape support for the back bunk. It doesn't have to be adjustable, but all these should be made using 2x4s.
Although pop up campers are generally made to withstand weight changes, there are a few isolated cases when it collapses.
How to Make Your Pop Up Camper More Comfortable
Spending a night, or multiple nights in nature is one of the best ways to relax. Although, for some, the thought of sleeping outside doesn't sound so great. Pop up campers provide an excellent alternative to tent camping. It's not quite like living in a travel trailer, yet not like camping in a regular tent. It's right in-between. For a comfortable experience, here are a few things to check off your list.
Mattress – This is one of the first things you need. When buying a mattress, be sure to measure the size of your camper. If your camper has enough space, go for the Zinus Deluxe Memory Foam (view on Amazon) which is eight inches in thickness. The memory foam is extremely comfortable and will make you feel like you're just at home. For medium-sized campers, this Foam Mattress with Fabric Cover is a good fit.
Bed sheets – The weather is difficult to predict; therefore, it's always best to bring sheets that are suitable for any weather. For instance, bamboo sheets, which are made from natural bamboo fiber. They are cool, moisture-wicking and odor repellent.
Eggshell topper – For extra comfort, you can place an eggshell topper above your mattress. An eggshell topper also relieves muscle pains and supports the neck and back. Check out the Milliard 2-Inch Egg Crate Ventilated Memory Foam Mattress Topper (view on Amazon).
Four Things to Remember About Pop up Campers
There are many things to consider before purchasing a pop up camper. For instance, some campers come with all the bells and whistles. They're fantastic in every way. However, this may not be what you need for you and your family. Here are some things to note.
Pop up campers are not very spacious.
Some pop ups are very large, but they come at a price. If you're tight on budget, the regular-sized pop up camper is a great choice. However, you should keep in mind that minimal space means a smaller amount of supplies to bring. Space is compact whether it's collapsed or fully deployed. Although you can set up a comfortable pop up camper bed, expect the headroom for the sleeping area to be smaller. For many campers, this isn't a problem.
Pop up campers have no air-conditioning or heater.
Pop up campers are at the mercy of nature! Unlike big RVs, pop up campers don't have air conditioning or heaters because of their limited space and lack of insulation. Fear not, because you can always bring a portable heater or AC with you depending on the season.
Pop up campers are not immune to the weather.
Since pop up campers lack insulation, they can't protect the inside space from inclement weather. A pop up camper can still keep you dry and keep the rain out, but condensation is inevitable. As a result, the inside of your camper may feel damp, so you have to get used to airing things often.
Pop up campers come with cassette toilets.
If you're worried about where to do your business, don't worry, pop up campers come with small cassette toilets. An alternative is to use a portable toilet, such as this one on Amazon.
Conclusion – How Much Weight Can a Pop Up Camper Bed Hold?
If dry camping is one of your things, a pop up camper is a great, affordable choice. If you're buying a second-hand camper, be wary of the condition and restoration involved. Do your research! Consider all factors before making the purchase, upgrade, or repair. It will go a long way to making your trip a lot more enjoyable.