Can You Put a Sleep Number Bed on a Platform Bed?
Disclosure: We may get commissions for purchases made through links in this post.
You're finally a proud owner of a Sleep Number bed but aren't too keen on spending more for a FlexFit adjustable base. The crucial question is, can you put a Sleep Number bed on a platform bed or a bed frame that you already have?
Yes, but there are factors to consider. A Sleep Number bed needs a solid foundation, which a platform bed provides. Slats could offer the same support provided that the distance between them is a maximum of two inches. Bed frames with widely spaced slats would need a Bunkie board or plywood.
Former and new users of Sleep Number beds have varying concerns about the smart bed. This article will provide some solutions while maximizing your sleep comfort.
Do You Need a Base for a Sleep Number Bed?
Sleep Number beds have air chambers inside the mattress, and they need support from a reliably stable flat surface that a base provides. FlexiFit would seem like the best choice in bases, but there is a selection of inexpensive alternatives like a Sleep Number platform bed or bed frames with slats no wider than two inches apart. Since Sleep Number beds come in standard mattress sizes, they would fit on any traditional base frame such as the one you already have or a platform bed for Sleep Number mattresses (view on Amazon). This upholstered platform bed frame is compatible with all kinds of mattresses and is made of durable wood slats to extend the life of your mattress.
Your bedroom floor may also seem like the most 'practical' solid base for your Sleep Number bed. Whether you just moved, struggling with the budget, or still contemplating on what Sleep Number bed platform to buy, consider the following risks should you opt to use the floor as a long-term base for your Sleep Number bed:
1. Lack of Airflow
Apart from having a comfortable sitting space, if you have a Sleep Number bed platform frame instead of setting your bed on the floor, the floor doesn't allow air to flow. As a result, your body's heat and moisture become trapped inside the mattress instead of dissipating into your bedroom environment.
2. Direct Contact to Warmth or Chill
Whether it's summer or cold season, you get minimal insulation against the floor's temperature, with only the mattress' thickness distancing you from it.
3. Floor Allergens
You sleep closer to floor allergens like dust mites and particles if you're not using a Sleep Number platform bed.
4. Crawling Insects
Insects could easily sneak up on you while you sleep if your mattress rests on the floor.
Now that you know why the floor should only be your temporary or last alternative to put your Smart Bed on, what more permanent solutions should you go for in looking for a Sleep Number bed frame?
Can a Sleep Number Bed Go On a Box Spring?
Traditional box spring bases aren't ideal for Sleep Number beds. While they are designed to support traditional mattresses, the springs could create an uneven surface for the non-yielding bottom of Sleep Number beds. Given the smart bed's SleepIQ technology, such irregularity could affect the app's ability to properly read your sleep pattern, especially if the box spring has seen better days. You shouldn't throw away your box spring base, though. Instead, put a sturdy and flat material between the box spring and your Sleep Number bed – like plywood.
Can You Use Plywood Under Sleep Number Beds?
Yes, you can. Before purchasing a sleep number bed platform, try plywood first. A ¾-inch piece of plywood could be a solid foundation for Sleep Number beds, supporting the manufacturer's requirement to keep your warranty valid. However, consider using a skirt or blanket over the plywood, so the material doesn't wear out the bottom of your Sleep Number bed. Apart from sandwiching plywood between your existing bed frame and your bed, you could also choose among other bed frame types that would go well with a Sleep Number bed.
What Kind of Bed Frame Works with a Sleep Number Bed?
The key point in choosing a bed frame for your Sleep Number bed is structural integrity, and it has two notable benefits. First, a reliable bed frame ensures that you don't wake up with you and your bed on the floor because the bed frame wouldn't easily fall apart. Second, you get to enjoy the full warranty that comes with your Sleep Number bed. Here are some choices to help you have those benefits:
Panel Bed
A typical design of panel beds is the rails along their sides. Often featuring either a headboard or a footboard (or both), the material used in panel beds (wood or metal) can support your Sleep Number bed and your mattress foundation. A panel board's base surface may come in slatted wood panels that allow your bed to breathe. Just add slats in between the existing ones if their distance is more than two inches.
Canopy and Poster Bed
The four posts surrounding a canopy or poster bed serve more than just exude a royal ambiance. They also function as sturdy structures to support your Sleep Number bed. However, this bed frame type may not be advisable if your bedroom only has ample space.
Platform Bed
A great advantage of choosing a platform bed is its sturdy base design, potentially eliminating extra support from a box spring or a mattress foundation. However, most platform beds are structured lower compared to other bed frames. So, if you want to add height to your Sleep Number bed, use a mattress foundation, leg risers, or a Bunkie board (view on Amazon). Fully assembled, this 2-inch wood split product has stitch bond fabric material that could support heavy weight. A platform bed is durable without an additional layer of support, though. You also get to choose between a solid base (without slats) or one with evenly spaced slats.
Platform Bed as a Sleep Number Base
Why would you choose a platform bed over a Sleep Number's matching base FlexFit? While FlexFit would probably rest your worries about warranty, durability, and compatibility, a platform bed has aces up its sleeve:
Cost
You could get a platform bed for as low as a few hundred dollars compared to FlexFit's minimum of $1,500.
Breathability
Since some platform beds come with slatted bases, this would address issues like mold build-up between your bed frame and your mattress.
Dual Purpose
A platform bed works both as a bed frame and a mattress foundation.
Contemporary
From upholstered headboards to under-bed storages, platform beds combine functionality with style without breaking the bank.
How Much Weight Could a Platform Bed Hold?
It's customary for bed frame manufacturers to include the weight capacity of their products. However, platform bed features differ from one manufacturer to another. Factors that affect how much weight a platform bed could hold may include:
Type of wood used
Number of slats
Frame structure
Wood thickness
Here's an overview of a platform bed's weight capacity:
| | |
| --- | --- |
| Twin | 600 lbs. |
| Full | 1,000 lbs. |
| Queen | 1,000 lbs. |
| King | 1,200 lbs. |
It's important to stress that a platform bed's weight capacity includes the weight of your Sleep Number bed. These smart beds are generally 'light' since the mattress composition is made of air. Depending on your Sleep Number bed's size and model, the weight range is from 37 to 120 pounds.
To ensure that you don't strain your platform bed, deduct the weight of your Smart Number bed from the general weight capacity above. The resulting number would be the maximum weight that the platform bed could hold.
Can You Adjust a Sleep Number Bed on a Platform Bed?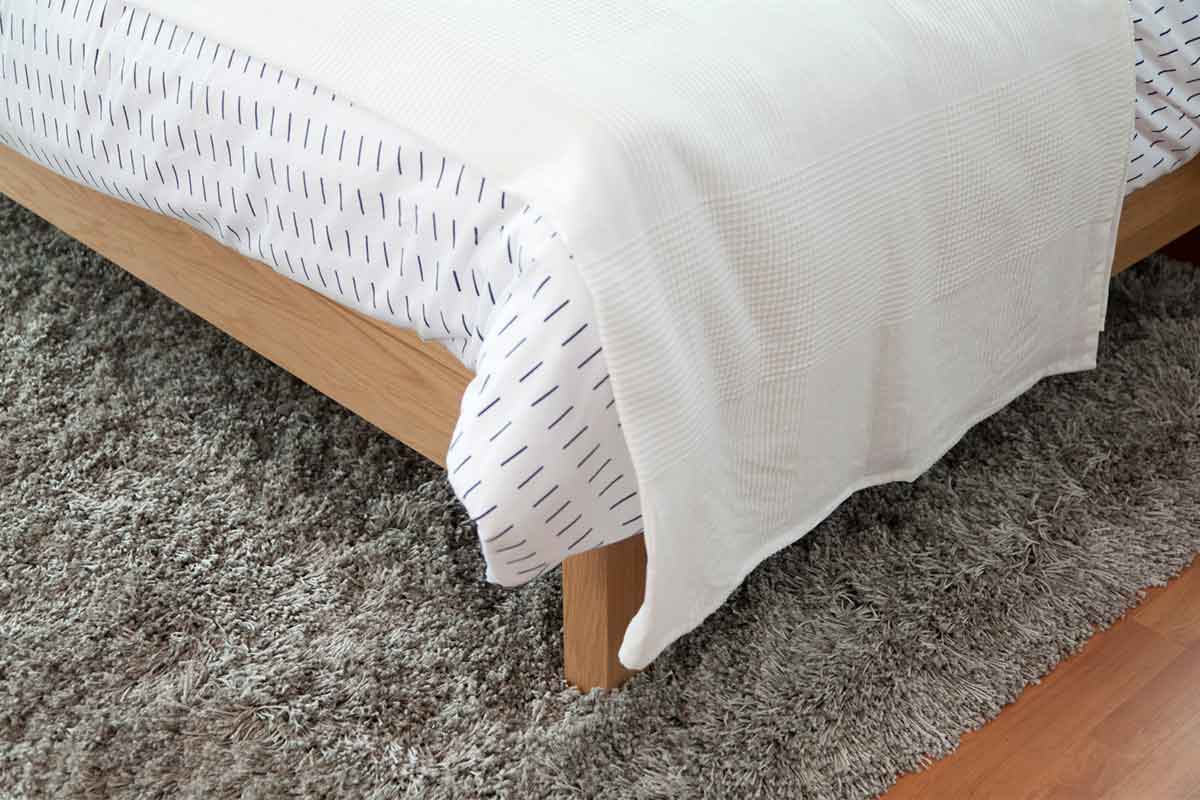 Due to the demand for smart beds like those offered by Sleep Number, there are platform beds in the market that are ergonomically designed to accommodate adjusting a Sleep Number bed. It might not be point-and-click easy, but the innovation potentially eliminates the challenges of working around a flat-surfaced bed frame.
Recommended Platform Beds
You wonder, can you put a Sleep Number bed on a platform bed? Yes, and here are some worthy candidates among sleep number bed platform frames:
Mellow Naturalista Classic Bed Frame
This platform bed (view on Amazon) comes in sizes from twin to king. It takes pride in its mid-century modern style with 3.5 inches of wooden frame for better durability. With a starting weight of 50.7 pounds, its all-wood design offers support and stability even without a box spring. Colors to choose from are Espresso, Black, Pine, and Cherry.
Dakota Upholstered Platform Bed Frame
With a full bed frame dimension of 80.5″ L x 58.5″ W x 38″ H, this chic bed frame includes a drawer and button-tufted diamond detailing along its headboard and footboard. It has a bed weight limit of 450 pounds and is ideal for small-space living.
Zinus Wen 12-inch Wood Platform Bed Frame
Made from wooden slats and frames, the Zinus brand offers a center support rail with added legs to support up to 500 pounds weight capacity. Offering all four standard bed frame sizes, its minimum weight is 58.3 pounds.
Can You Use a Sleep Number Base with a Different Mattress?
If you ask this question to the manufacturer of Sleep Number mattresses, the company wouldn't recommend it. However, this article offers some ways to put a Sleep Number bed on a platform bed frame.
Conclusion: Can You Put a Sleep Number Bed on a Platform Bed?
If you invested in a Sleep Number bed, it means that you look forward to getting the most out of your money's worth. And a comfortable sleep is probably among your top expectations. You don't have to dig deep in your pocket for a Sleep Number bed frame to secure your investment. With this article, the question, 'Can a Sleep Number bed be used on a platform bed' gets a resounding yes.
References: