Should You Wash a New Comforter Before Using?
Disclosure: We may get commissions for purchases made through links in this post.
You get to buy a new comforter set, and, probably, you are now anxious to get it on the bed straight away. However, you might also be wondering if you should be washing your new comforter before using it for the first time.
Should you wash a new comforter before using it? Yes. Even though you bought a good quality comforter for your bed, it is recommended to wash it first before using it. Germs and dirt can accumulate during transit or even in the stockpile.
Washing also helps eliminate the fragrance of being packaged for a long time, and it adds a pleasant smell to your bedding. In this case, it gives you a better and longer sleep.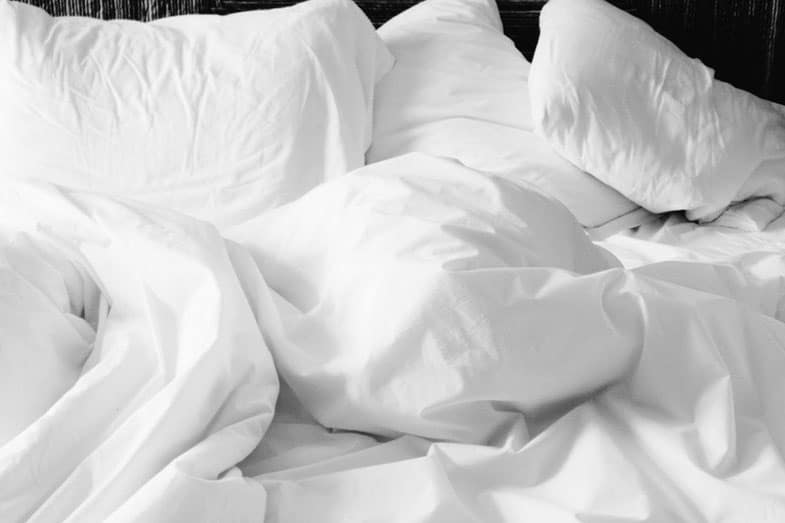 Take a look at these three popular Amazon products that provide an excellent addition to your bed.
Topllen Luxurious Down Comforter
(view on Amazon)
Linenspa All-Season White Down Comforter
(view on Amazon)
SORMAG 100% Washed Cotton Duvet Cover
(view on Amazon)
This hotel quality comforter is perfect for your bed. It is hypoallergenic, which suits those who are sensitive or have asthma.
Linenspa provides an ultra-soft comforter that can be used for every season. It's cozy and comfortable, and hypoallergenic with microfiber fill.
The SORMAG washed cotton duvet cover uses 100% cotton fiber to give excellent breathability. It's machine washable and simple to care for.
Taking Care of Your Comforter
Before using your new comforter or bedding, you should be aware of the proper way of washing it. Here are some tips you can use in cleaning your newly bought comforter:
1. Check the tag and read the instructions carefully.
Instructions will help you a lot. It will tell you how to wash and what appliances you should use to wash it properly. Fabrics are of various kinds. Each kind has a specific method or way of proper handling. You might be washing linen on a hot temperature dry cleaner, leaving you in shock of what happened to your newly bought comforter. So, always consider the tags beforehand.
2. Use the right temperature for the water.
When you decide to wash the comforter yourself and do it at home, it is advisable to use cold water instead of hot or warm water. Using hot or warm water can shrink the fabric in which you should avoid doing so if you want a longer life span for your comforter.
3. Monitor the speed of the spinner.
To minimize the moisture left behind in the comforter, you should choose the fastest speed, particularly if you have decided to wash it at home. In doing so, your comforter will dry quickly and will avoid losing its warmth.
4. Choose the correct detergent.
To protect and preserve your comforter, pick a detergent that doesn't use any additives in it. Also, keep away from using fabric softener on washing your bedding. In this case, it can ultimately alter or change the quality of your bedding. It might lose its fluff, and this may leave you in dismay.
5. Dry your bedding thoroughly.
It is crucial to properly dry your comforter, especially if you have cleaned it in soapy water. Keep a close monitoring to the advised setting and drying time. Proper drying of your comforter prevents mold from forming.
6. Use an air dryer.
Air drying your comforter every other month to avoid bacteria and unpleasant smell from forming. This will allow you to sleep more comfortably at night without worrying about dust and mites from accumulating on your bed.
7. Store or keep your down comforter properly.
Select a place where moisture would find it hard to penetrate. Good, clean storage space can preserve and lengthen the life of your bedding.
Dry Cleaning V.S. Your Machine at Home
As a homeowner, you would always want your home to feel clean and cozy, particularly in the bedroom. You probably clean your curtains, comforter, and blankets in your washing machine regularly to avoid dust and mites piling up on your bed. However, dry cleaning is way better than using your washing machine at home. Here are some reasons to support this idea:
Makes your Comforter Look Better
Your bedding does not only keep you warm and cozy during the night, but it is also an important element in your decorations. By washing your bedding in a traditional washing machine, it gets tumbled for a long time, thus leading to rips, tears, holes, and color fading. Of course, you wouldn't want this to happen.
Cleans Thoroughly
People believe that dry cleaning could shrink fabric or cloth. Your washing machine might be safer to avoid shrinkage, but it won't be as clean as those done at home.
Saves Up Time and Energy
Bringing your comforter to a professional dry cleaner can save you time and energy. You won't have to wait for it to dry for a long period, for it can be dried immediately. Just be careful and read the tag if your comforter is suitable for this kind of cleaning. Linen fabric is sensitive to heat, so it might be advisable just to clean it with your washing machine and allow it to dry naturally.
How Your Mattress Affects Your Health and Sleep
In a poll made by the National Sleep Foundation in 2011, they have found out that 92% of people believe that having a comfortable mattress contributes to a good night's sleep.
You might be blaming your budget for putting up with a cheaper type of mattress. However, next time, when you're shopping, do consider high-quality ones for a longer sleep, thus improving your memory and boosting weight loss.
Here are some reasons that your mattress can affect your sleep and health:
Stress
A small study done in 2009 had proven that new and firm mattresses make a huge difference in one's sleep. In 28 consecutive nights, 59 healthy men and women were asked to sleep on their regular mattresses. For another 28 days, they were asked to sleep on a new and firm type of mattress. After the testing, they were asked to assess their levels of stress depending on factors such as anxiety, irritability, nervousness, and headaches. The new beds have resulted in a remarkable drop in stress levels. According to the study, this is probably because the test subjects were able to sleep longer; that's why they have lesser stress.
Allergy attacks
Wash your bedding regularly, or mites might choose it as their home. The dead skin cells you leave on your bed are what these microscopic creatures feed themselves on. As stated by WebMD, approximately 20 million Americans are hypersensitive to these bugs, and they're specifically troublesome to asthmatic people, as reported by CNN. Washing your comforter or mattress using hot water can kill mites and remove dust.
Tossing and Turning
Frequent tossing and turning during the night is a clear indication that you are irritable, so this is a good time to buy a new mattress or comforter. Having a long and tiring day at work leads you to jump in on your bed and desire for a nice and long sleep. Being uncomfortable at bedtime might increase your stress levels that may affect your health. Thus, consider buying a new one as we don't want to end up going to the doctor's office for some advice.
Sweat
People may lose a quarter or a half-liter of sweat each night while asleep. The comforter that you're using gets damp, and the matter that the comforter made up of swells up. The moisture you have left at night evaporates when you get out of bed in the morning, and it deflates down. This, in turn, makes the material stuck together as it happens night after night. As a result, your comforter loses its warmth, and you will be left cold in the night. Being cold during the night will affect your sleeping pattern and might also leave you wide awake.
Conclusion – Should You Wash a New Comforter Before Using?
Submerging yourself into a fresh, clean, and comfortable bed with suitable bedding for you will make a huge difference in getting a good night's sleep. Having a comforter that's not suitable for you will make your night restless. Thus, it is a good thing to choose a comforter that's good for you, washed, and has passed your standards.