Do You Need an Underquilt for Your Hammock?
Disclosure: We may get commissions for purchases made through links in this post.
For camping trips, tents are one of the most important things to bring. However, hammocks have been growing in popularity due to their convenience and affordability. They also provide many features and accessories, making your trip so much more enjoyable. An underquilt, for example, can be a great addition to your hammock, but do you really need it?
Do you need an underquilt for your hammock? You don't need an underquilt. You can use a pad instead, which is cheaper; however, an underquilt is a more comfortable option. Depending on the quality, underquilts are usually heavier than pads but will keep you warmer in cold weather.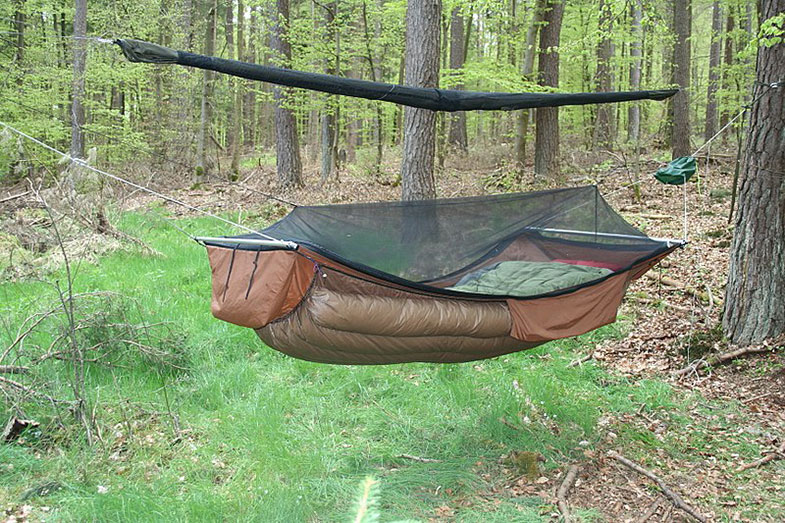 What Is an Underquilt?
An underquilt is an insulated bed that is made up of synthetic materials. It has a polyester or nylon shell that sits at the bottom of the hammock. Using one keeps your body warm in frigid weather. It's also a comfortable addition to your hammock.
Another great thing about underquilts is their lightness. You might be thinking that carrying one in your travel or camping bag would be burdensome; however, underquilts are quite advanced. Depending on the type of materials, there are now quality underquilts that weigh at least 14 oz. Their weight makes them an excellent choice for traveling.
Using an underquilt provides enough comfort as you lay down in your hammock. Compared to the sleeping bags, you can freely move around since it will not restrict your movements. Thus, sleeping in any position should not be a problem.
How to Choose Underquilt for Your Hammock
With the significant advantages that underquilts offer, there are some things to consider when choosing the ideal underquilt for your hammock.
Material
There are two most common material types of underquilts – down and synthetic varieties.
Down – Down can be in the form of goose and duck down. Both are excellent insulators; however, the latter is much more substantial and less compressible than the former. When it comes to price, goose down is more pricey than duck down. Although both types offer a high level of insulation, the downside for them is their water-resistance characteristic. It's not recommended to have this material during rainy or stormy outdoor adventures since it will not provide adequate warmth.
Synthetic – Synthetic, on the other hand, can be in the form of nylon or polyester types. The two are both flame resistant and wrinkle-resistant. Just like the down material, there are also differences between the two kinds of synthetic materials. Nylon is more suitable for outdoor activities as it is weather-resistant and more durable than polyester. The latter is more heat-resistant and often used in industrial settings. Also, compared with polyester, nylon is more expensive due to the production cost of the material. In terms of comfort, nylon features more insulation than polyester.
In general, down and synthetic materials offer excellent insulation but differ in many ways. Based on the differences between them, the best material that you should look for in an underquilt is nylon since it features durability, weather-resistance, and more comfort among the other types. Due to its characteristics, nylon is the most expensive material among them.
Length
There are three standard lengths of an underquilt: precisely full, three quarters, and half-length. The length of an underquilt depends on your overall goal during your travel. Several factors like your budget, pack weight, and your desired warmth are some essential things to consider in choosing the length of your underquilt.
A full-length underquilt covers the entire length of your body. It will surely secure yourself head to toe during cold weather and nights. Using this length type, however, maybe a bit too warm or uncomfortable. A three quarter length underquilt is the ideal length for the travelers and campers. It may not cover the whole body, but it will ensure that warmth would be locked in. Some campers use this length and add small a pad or thick socks for their feet to compensate for the lost height. A half-length underquilt is used by travelers who aim to lessen the weight of their pack.
Weight
Packing essential things during travel or camping is very crucial. One factor that travelers and campers take into consideration is the weight they need to carry. In regards to an underquilt, it carries less weight compared to a sleeping bag. Depending on the trip, the heaviness of the underquilt will depend on goals and needs. The materials and temperature rating of the underquilt will be the primary basis of its weight.
When choosing a smaller and lighter underquilt, always keep in mind the temperature rating of the underquilt. Lower temperatures mean there is more filling, making it heavier. To get the most comfortable sleep, goose down underquilt with the warmest temperature rating can be the ideal choice for most travelers and campers.
Temperature Rating
Temperature rating refers to the possible lowest temperature of an underquilt that will provide warmth during its use. There might not be a standardized temperature rating for all underquilts, but there are some manufacturing companies that create their ratings. Also, note that temperature rating serves as a guideline to all sleepers and travelers. External variables such as the person's clothing and type of underquilt can affect one's sleep comfort aside from this factor.
The standard temperature rating of underquilts comes in 10 degrees, 20 degrees, 40 degrees, and 50 degrees. Most campers prefer a 20-degree underquilt that can keep them comfortable down to 20 degrees. Depending on the person's body type and how they sleep, temperating rating guidelines can serve as a good starting point when choosing an underquilt.
Recommended Underquilts
Here are the best underquilts that are excellent choices for all kinds of campers and travelers with different needs and budgets.
OneTigris Underquilt
This is a functional underquilt that is ideal for camping newbies due to its affordability and durability. It works well with 3 season camping and traveling and has a temperature rating ranging from 40 degrees to 68 degrees, making it ideal during cold temperature. Apart from being an underquilt, it can also be used as a sleeping bag and a full-length blanket. It more favors tall campers and travelers as it is designed to cover the whole hammock. The downside of this underquilt is its bulkiness that can eat up more space into one's backpack. A lifetime warranty is available for this product.
ENO Ember 2
This 25-ounce underquilt is one of the most affordable underquilts that is known for its functional build and excellent quality of materials. It works perfectly with 3 season camping and traveling and has a temperature rating of 40 to 50 degrees, which is a great choice for colder months. Taller people may not appreciate this underquilt since it may not reach their feet.
Outdoor Vitals Aerie
Aside from its affordability, this underquilt is also known for its functionality in all seasons. This lightweight underquilt can also be used as a sleeping bag, hammock pod system, a technical blanket, or double sleeping bag. Its design secures the loft at its fullest rate and at the same time, reduces the possibility of compressing it while sleeping. The materials used in this underquilt is made for durability. A lifetime warranty is available for this product.
For a better look at the three underquilts, check out the below guide.