Clothes for Sleeping in a Hammock (What to Wear)
Disclosure: We may get commissions for purchases made through links in this post.
Once you've tried sleeping in a hammock, you will surely find yourself loving and using it throughout the night. Not only are they easy to sleep on, but they are great for your health as well. However, hammocks do not have the protection that a tent has to help keep you warm. So what exactly are the right clothes to wear when sleeping in hammocks?
What Clothes Should You Wear to Sleep in a Hammock?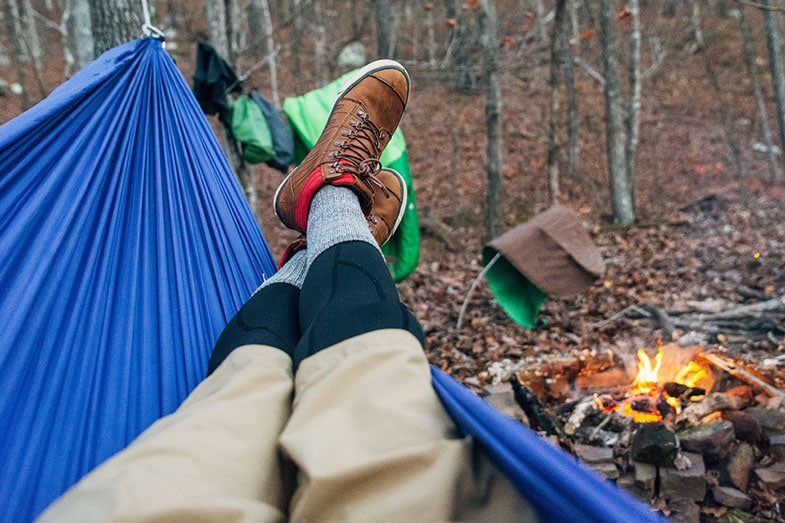 Sleeping in a hammock may be comfortable, but it will not keep you warm. The clothes that you should wear will depend upon the season or the temperature. Let's say you're at the beach or somewhere sunny and hot; it would be best to wear lighter clothes. Meanwhile, if the weather is a bit chilly, then you would have to wear clothes that can protect you from the cold.
The clothes you use will have a significant effect on your overall experience. That is why it is essential to wear the right ones. If you plan to spend the night outside in the comfort of your hammock, then regular sleeping clothes will not make the cut.
The Clothes to Wear When Hammock Camping for Each Season
When you hear the word hammock, what is the first thing that comes to mind? You would likely think of summer days on a beautiful beach and the cool breeze from the sea. However, you can use a hammock in any season. One of the things that you can do is to put on the right attire when you are camping out on a hammock. So without further ado, here are the clothes to wear to feel comfortable while camping out on a hammock in any season.
Spring
The temperature during spring is one of the friendliest. It is warm enough without being too hot. You can pack lighter in this season. However, the weather during this season can be quite unpredictable from sunny days to sudden rain showers. This means that the night time will still be colder than usual. Here are the clothes that you should wear:
Thick Pajamas – Since night time will still be cold, choose one that is thick enough to keep you warm. Remember that the hammock does not give that much protection to cold, so be sure to wear something that snug and comfortable. Cotton pajama sets are okay but be sure to put a sleeping bag on your hammock to block out the cold wind.
Socks – Wearing socks is an excellent way to keep you warm at night. Socks made out of wool are your best bet. Not only will they feel snug, but they also protect your extremities well. However, if your temperature is already hot, then you can forego wearing these.
Thermal Underwear – The best way to keep you cozy on a spring night while camping out on your hammock is to wear thermal underwear like the Thermajohn thermal underwear (view on Amazon). It has moisture-wicking properties to help your body breathe since most people tend to sweat a lot while sleeping.
Summer
Your backpack will probably weigh the lightest during this season. Normally, you will only need a good pair of shorts and a shirt to get going. Still, you will need to consider the type of climate where you will plan to spend the night in your hammock.
For drier climates, you can practically wear any t-shirt and shorts as long as you are comfortable. On the other hand, unpredictable weather will also come in to play. For you to prepare for this, bring a light long-sleeved shirt or cardigan.
Fall
It is important to remember that hammocks are great for tropical weather, but it does not fare well in a colder climate. This is why layered clothing is the key to keeping yourself comfortable while sleeping in your hammock during fall. The clothes you wear in autumn will be similar to what you will need during winter. Here are the things you'll need:
Thermal Underwear – A good pair of long johns is your best bet in surviving the night in your hammock. It is undoubtedly the must-have underwear for all seasons. Whether you wear another layer over it or not, you can still stay comfortably warm. You can layer it up with a few more clothes to keep you warm throughout the night.
Socks – Wool socks or those that have moisture-wicking features are also a must-have.
Beanies – It is crucial to protect your head and keep it warm. Beanies or caps made out of wool are great to use while sleeping out on your hammock during chilly nights.
Gloves – Remember to protect your hands from the chill. A good pair of lined gloves or mittens will help you keep your hands warm while not restricting movement and circulation.
Winter
Now, for the brave the souls out there who would like to conquer hammock sleeping in winter, remember to layer up. The clothes you wear will determine how comfortable you will be while sleeping outdoors in the cold weather. You must wear several layers of clothes that are warm, waterproof, and breathable. The clothes you are wearing should also provide you with enough insulation to keep you warm while preventing moisture from staying on your body.
During winter, there are five basic layers of clothing that you should have, and these are base, mid, wind, insulation, outer clothing. Of course, you should not forget your extremities.
Base Layer – The base layer is your thermal underwear. This should have moisture-wicking properties to help keep moisture from staying on your body for too long. It should fit you snugly and have insulating properties to help you regulate your temperature and keep you warm. Don't use cotton-based underwear; choose one that is made with Merino or synthetic wool, instead.
Mid Layer – The function of this layer is to help you keep warm by trapping heat inside your body. Typically a wool or fleece jacket like the Terracea Fleece Jacket (view on Amazon) is your best bet. It's water-resistant and keeps you comfortable in any cold environment.
Wind Protection Layer – The outer or wind layer is practically a thin layer worn to protect you from the cold wind. That is why it necessary to have a wind-breaker jacket. The jacket is usually made with light waterproof material. However, you can choose to skip this layer and have a wind-proof mid-layer jacket instead.
Insulation Layer – Wearing an insulation layer will provide you with a great deal of warmth. It is a piece that you can't do without especially if you plan on camping outside with only your hammock in frigid winter. It basically has the same function as the mid-layer, but it multiplies the warmth and comfort you will have a couple more times.
Outer layer – The outer layer or shell has two types; these are hard and soft shells. It's like a rain jacket for pros. Its principal function is to protect you from all kinds of weather conditions. A soft-shell outer jacket is more breathable and flexible. It's great if you plan on hiking or climbing while a hard outer shell is waterproof and protects you from cold gusts of wind. However, it's not as breathable as the other type. They usually have sealed seams and waterproof zippers. You can also opt to get a jacket system like the Jack Wolfskin insulated jacket system (view on Amazon). It's both breathable and waterproof. Plus, it effectively blocks the wind as well.
Take note that the number of layers and the type of material you wear will depend upon the temperature of where you plan on setting up your hammock. Here is a chart to help you plan out what type of layers you should have at different temperature levels.
How to Sleep in a Hammock Comfortably
Now that you know what to wear, here are some tips and tricks on how to stay comfortable during the night in your hammock.
1. Type of Hammock
Since you are spending the night in your hammock, choose one that will help keep you comfortable. Choose a hammock made of parachute nylon like the Wise Owl Outfitters Camping Hammock (view on Amazon). It is strong enough to support you and is quite lightweight. Remember not to use hammocks made of slats or ropes because these could dig into your skin and cause abrasions.
2. Set It up Properly
Make sure that when you install your hammock, you get the right curve. A hammock that's too stretched out would be uncomfortable to sleep on. Having a deep curve will allow the hammock to carry your weight without having it loosening up. The recommended distance of your hammock to the ground is about twelve to eighteen inches.
3. The Right Hammock Angle
For those of you are doing this for the first time, lying down parallel to the hammock is a common mistake. If you want to be comfortable, lie down at an angle, and stretch your arms and feet. This provides you with a better idea of how much space you have. Plus, lying down in an angle will allow the hammock to support you better and prevent you from sinking too much into it.
4. Get an Underquilt or a Sleeping Pad
Treat your hammock like your bed at home and place an underquilt or sleeping pad. This will ensure that your back is supported throughout the whole night. You can also set a pillow under your knees for more support.
5. Wrap It Up
Cocoon yourself in the hammock and wrap yourself with it. Doing this will help keep your body heat through the night.
If you want to get a goodnight's sleep while camping out in your hammock, follow these tips, and you will surely stay warm and enjoy a comfortable night under the stars.