Alaskan King vs. California King: Which is Bigger?
Disclosure: We may get commissions for purchases made through links in this post.
Despite its name, not all king size beds are the same as each other. A California king mattress is not the same as an Alaskan king. There are several things that distinguish the two bed sizes from each other.
Which is bigger between an Alaskan king and California king? A California king size bed that is narrower and longer than the standard king size bed, which is 72 inches wide and 84 inches long. An Alaskan king size bed is bigger, measured at 108 inches wide by 108 inches long.
Size is the main difference between the California king and the Alaskan king. But surely you want to know more than just how big these beds are. On that note, we will share with you more about these types of bed, for size is not all that matters.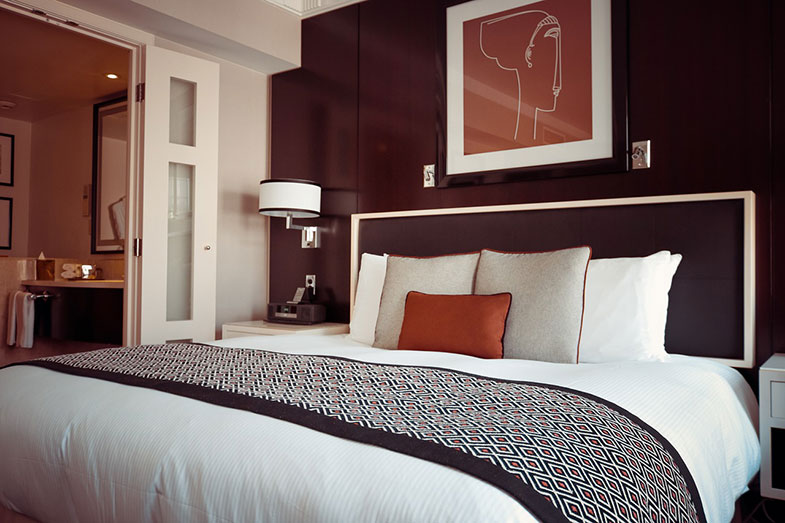 Comparing a California King to an Alaskan King
Sleep is great when you lie in a spacious bed, one where your motion is not limited by the other person sleeping next to you. If you are taller than the average size individual, a regular king size bed may not be that suitable for you. The best king sizes today that can offer you better sleep are the California king and Alaskan king.
Size and Dimension
The dimensions of a California king bed (view on Amazon) is 72" by 84". As for the Alaskan king, its dimensions are 108" by 108". This makes the Alaskan king 36 inches wider and 24 inches longer than the California king. These two beds are definitely more spacious than your standard king beds.
The Alaskan king is, in simple terms, enormous. It can be enticing to have a bed this big. But in practical terms, it is probably too much or at least too big for an average sized bedroom. You might also struggle to find the right sized linens and sheets for this kind of bed. Most likely, you will have to custom make these beddings.
| Bed Size | Dimensions (inches) | Dimensions (cm) |
| --- | --- | --- |
| Regular king | 76in x 80in | 193cm x 203cm |
| California king | 72in x 84in | 183cm x 213cm |
| Alaskan king | 108in x 108in | 274cm x 274cm |
Lifestyle
Depending on your lifestyle, you may be looking for a bigger mattress where you and your partner have more than enough sleeping space. You may also be looking for the kind of bed that's ideal for your kids who like to snuggle up with you or pets with mattress privileges.
If it is only you and your partner who will be occupying the bed, then a California king-sized mattress might be the more practical choice. It is big enough to accommodate a height of 6 feet and higher, giving each person around the size of a twin bed. Of course, if you really want to keep your loved one from accidentally smacking you in the face, then an Alaskan king would be ideal.
Factors to Consider When Buying a California King or an Alaskan King
Over the last decade, more and more people demand mega beds and custom mattresses, likely to ensure better sleep at night. King size beds are now the standard for mattresses. If you like a mattress customized to your individual needs, these two kinds of larger mattresses are great to consider.
As you've figured, to have quality sleep is not all about the product. An important factor that we should never forget about is ourselves.
Body Type
When investing in a new bed, just like a shirt, want to make sure it fits you well. Your new mattress should fit your body type, whether you are tall, medium, or short. Knowing your body size or type will make it easier for you to know what you want.
Sleeping Behaviors
Besides your body type, your sleeping patterns or behaviors also matter when choosing which size of mattress to buy. If you are the kind of person who sleeps with arms wide open, then you may want a bed with more width. In that case, the extra open space of an Alaskan king can give you the good night's rest you deserve.
The Alaskan king is ideal if you:
Are bigger
Sleep with your children
Sleep with your pets
Find a standard king bed too short
Feel that a California king is too narrow
Don't want to limit your movements
An Alaskan king mattress offers you so many benefits, one that outweighs a California or regular king. It is so much larger that you can literally feel like a king. It can, therefore, reduce anything that might disturb you or your partner's sleep.
There is nothing much to complain about having an Alaskan king. That's unless your bedroom doesn't have the space for it, of course. In addition, the Alaskan king might be too pricey for most individuals too.
Available Bedroom Space
Before you purchase a mattress, grab your measuring tape and get the dimensions of your room. You want your room to have enough space left for walking comfortably around the bed.
You should also measure the doors, stairs, and hallways of your home to ensure your chosen mattress can fit its way to the bedroom. Most Alaskan kings can fit in a regular family home, but still, measuring will keep you sure. You may want to get an Alaskan king that can be assembled and makes it easier for delivery and set-up as a precaution.
You may also want an Alaskan king in modular mattress design. This design can get into any house as it comes with multiple components within one cover. When it comes to the box spring, options are usually available at custom mattress builders or you can custom make a Platform Bed Frame.
Estimating Bed Dimensions
You can use the 12-16 rule to guide you when you shop around for a comforter. This rule is especially useful when you have a larger mattress. Comforters are typically wider than longer, even if the bed is square like an Alaskan king. A comforter like this hangs over both sides of the mattress.
However, the length only covers the bed's foot side. By following the 12-16 rule, you should add 12" for the length and 16" for the width when you shop. In the case of a Californian king, your comforter should have 88" for the width and 96" for the length. For an Alaskan king, it should be 120" for the width and 120" for the length.
Finding Oversized Bed Linens
Another thing to consider when choosing to buy either a California king or an Alaskan king is the ease of shopping for the linens, sheets, and comforters. For a California king, it would be easier as this size is as typical as a standard king. You will easily find the correct size of bed linens from local stores.
The same can't be said with an Alaskan king, though. As the biggest size, it would be hard and might require a lot of searching to find one in stores, as most are made by custom requests. You will likely find them from retailers online, shops that offer flat sheets, fitted sheets, duvet covers, and more delivered right to your door instead.
Related Questions
The California king and Alaskan king are both incredibly large mattresses that can offer you a more comfortable sleep in comparison to the regular king size mattress. There is a significant difference in their sizes, but whichever you find that is more suitable for you will depend on your sleeping behaviors, body type, available space, product availability, and of course, if it is within your budget.
Both have a good number of benefits to offer. Still, you must have some questions to ensure it will truly satisfy your sleeping needs. In that regard, here are some answers to your inquiries.
"What is a split California king bed?" – A split California king bed (view on Amazon) is just the same as an ordinary California king. It is the same size of 72" x 84" with the only difference being the split between the bed. It means that the bed is made up of two parts, which you can lay out together to form the king sized mattress. Each of the two pieces is about the same size as a twin mattress.
"Where can I buy an Alaskan king mattress?" – Some mattress retailers offer pre-made Alaskan king beds. However, you aren't likely going to find one in a big-box mattress store. The best way to find one is through a custom order, which is the best choice if you'll be splurging on a mattress this size anyway. With a custom order, you can be sure the bed will be to your liking.
"Is a larger bed difficult to make?" – Larger beds are going to be challenging to make, that's for sure. You make it in the same method, but it's going to take longer and physically tricky too. Since the linens and sheets of an Alaskan king come from niche stores, it's also going to be expensive. Given how huge they are, washing, drying, and ironing the sheets will be more difficult as well.
Conclusion – Alaskan King vs. California King: Which is Bigger?
For the question of which king size is bigger, the Alaskan king takes the title. Of all the different bed sizes, it is the largest there is. But is it worth the money to buy a bed this big? If you want to make a statement or need more space in your bed, an Alaskan king is truly worth every dollar.
But for some people, it is the definition of too big. If it is only you and your partner who will be occupying the bed, a California king is perhaps the best option. Either way, both are incredible and will provide you with longer sleeping hours. Now that you know the difference, benefits, and drawbacks of a California king and Alaskan king bed, you can comfortably choose the mattress that's perfect for you.