Hotels, Motels, and Inns: What's the Difference?
Disclosure: We may get commissions for purchases made through links in this post.
Deciding on your booking accommodation, you struggle to choose among your options – hotels, motels, and inns. You tell yourself that they're all the same anyway, so choosing one over the other makes little difference. Well, not quite. Your expectations, preferences, travel companions, and other factors could spell a significant difference when choosing among hotels, motels, and inns as a part of your travel plans.
Hotels, Motels, and Inns are all lodging accommodations that offer a place for you to stay or sleep, whether it's a personal adventure or a business trip. Differences between them mainly lie in the cost of stay, amenities, services, space, and location, most of which rely on your purpose of staying.
Here's a summary of the differences among hotels, motels, and inns:
Purpose
Cost
Structure
Rooms
Stay Duration
Amenities
Services
Space
Location
This article will help you get the best out of your travel, topped with a good night's sleep. Whether it's a solo adventure, a trip with your friends, or a family holiday, you'll arrive at a wiser decision instead of a blindfolded choice.
Hotels, Motels, and Inns: What's the Difference?
Knowing what to look for in choosing among hotels, motels, and inns could turn your vacation, adventure, or business travel into an experience worth remembering.
Purpose
This answers why you're looking for a temporary place to stay – from a few hours to weeks – whether for business or pleasure.
Hotel: While not always the case, a hotel is a business traveler's first choice. With its convenient office-like environment and facilities, access to technology is rarely an issue to deal with. Even personal needs like meals and on-call transportation to and from business meetings are just a dial or touch-button away. Similarly, a hotel is also a 'regular' traveler's go-to, especially if the cost of staying, whether short or long-term, is of no consequence.
Motel: Earning the moniker 'motorists' hotel,' motels cater to convenience above all else. If you're always on the go, motels' common design of rooms facing a parking lot serves this purpose. If you're just passing through a location or place, staying in a motel is your best bet. It could also be your mid-way point while looking for long-term accommodation, say in a new town or city.
Inn: Most inns are older houses or structures converted into lodging for small groups of people. If you're looking for inexpensive accommodation for you and your friends or family members and luxury isn't a priority, look into staying in inns.
Cost
This refers to how much your stay would be at your choice of lodging. Aspects like location, prestige, services, and facilities are among the determining factors that shoot up an accommodation's charges.
Hotel: The more stars a hotel prides on, which means above-standard amenities and services, the more potential zeroes on your bill after checking out. You could be looking at a price range of hundreds to thousands of dollars a night.
Motel: A motel's location, say big cities like Los Angeles or New York, could spike your spending as if you're staying in a starred hotel. However, if you're staying at an average motel, you're looking at spending somewhere between $45 to $100 a night.
Inn: Fewer amenities and less luxury mean lower spending for you.
Structure
The structure is about the business establishment's inherent building design.
Hotel: Often among city skyscrapers, a hotel's ground floor houses the reception area and a sitting lounge. Room accommodations are usually from the fourth floor up, with the second and third for luxurious amenities.
Motel: Historically designed as mid-way stops, motels generally favor U-shaped low buildings for easy access and departure. And with your room door facing the parking area, you could easily keep an eye on your car or motorcycle.
Inn: Inns are mostly simple, usually single-building structures that are one or two stories high.
Rooms
Number and style make one accommodation different from another.
Hotel: Since hotels cater to travelers from all walks of life, one floor could house five units on one side of a corridor alone. The rooms may also get 'grander' as you get near to the top floor and could accommodate more people if you're traveling with friends or family members.
Motel: The choice won't be a challenge for you because motels offer nearly identical options. There are also fewer amenities that you could indulge in, but room rates are lower than hotels.
Inn: Instead of 'rooms,' inns rent out beds, usually for overnight travelers. You'd probably 'bunk' with other travelers the way you used to in college dormitories.
Stay Duration
Your intended length of stay is entwined in choosing among hotels, motels, and inns.
Hotel: Hotels could accommodate your needs should you wish to stay for long periods, even months, with their extensive facilities and services.
Motel: As a 'motorist's hotel,' motels are mostly for one-nighters.
Inn: With inns' limited space, facilities, and services, they often only offer short-term accommodations. While food might be sufficient, everything else you may need could hang on a balance should you stay for more than a week.
Amenities
These are areas of interest apart from your bedroom.
Hotel: Apart from the basic amenities, the luxury of workout gyms, relaxing spas, fancy restaurants, casinos, and swimming pools are the perks of staying in a hotel. What's more, these hotel features could just be a few steps or a floor away from your room. If you're traveling for business, most hotels offer conference rooms that are conducive for spontaneous or scheduled meetings, making the hotel your one-stop-shop for their business needs.
Motel: With most patrons looking for short-term stays, motels offer fewer amenities and services. However, you won't be lacking in terms of convenience in easily accessing major road networks, given where most motels are located. This means that you could hit the road any time you want. Some motels may have outdoor pools, though, which you'd find inviting, especially if it's summertime or kitchenettes for your meal fixes.
Inn: There are limited provisions for food and drinks if you're staying in an inn. But if you're only looking for a place for a shuteye, the lack of amenities wouldn't cause much discomfort.
Services
When you arrive until you leave, this factor covers assistance for your needs as a traveler, including unplanned or surprise ones.
Hotel: Larger hotels usually have a concierge ready to serve you 24 hours a day. There are also valets to park your vehicle and bellhops to carry your luggage (view on Amazon). If you decide to throw a party for a friend or family member at the spur of the moment, an in-house event planner could help save the day.
Motel: Motels mostly offer the same services as that of hotels – minus the luxury. Although there are a few motels situated in big cities that take pride in their on-site swimming pools. Some even have eateries that won't poke holes in your pocket. Your stay may also come with a complimentary breakfast.
Inn: It isn't common for inns to provide room service as well as luxurious add-ons. While generally non-starred lodging accommodations, you may find some notable inns with service perks if you read through travel sites.
Space
It could be as ample as a single bed with enough elbow room or rooms wide enough for two king-size beds plus a coffee table and a lounging sofa.
Hotel: Some hotels offer the luxury of choosing a room that suits your style, apart from the wider variety of rooms to choose from. Among hotels, motels, and inns, hotels often have larger rooms and more spacious other sections.
Motel: While with smaller rooms compared to hotels, motels have all the basic amenities you'd possibly need while staying.
Inn: If you want a more intimate space to spend the night, book your accommodation in an inn. Rooms in inns are mainly smaller and best if you're looking for short-term living spaces.
Location
This is a distinguishing feature on where a lodging accommodation could be built or is operational.
Hotel: Situated mainly in the centers of busy cities, most hotels gain their prestige and popularity from the high traffic of city travelers.
Motel: From the good old days to this day, motels are conveniently located at major highway routes for transient motorists looking for a place to spend a night or two.
Inn: While inns could be located in any part of a country, you could find most of these lodging establishments along motorways. While they don't have in-house restaurants where you could indulge in your meals, most have small sections offering simple cuisines.
Hotels, Motels, and Inns: The 'Good' and the 'Bad'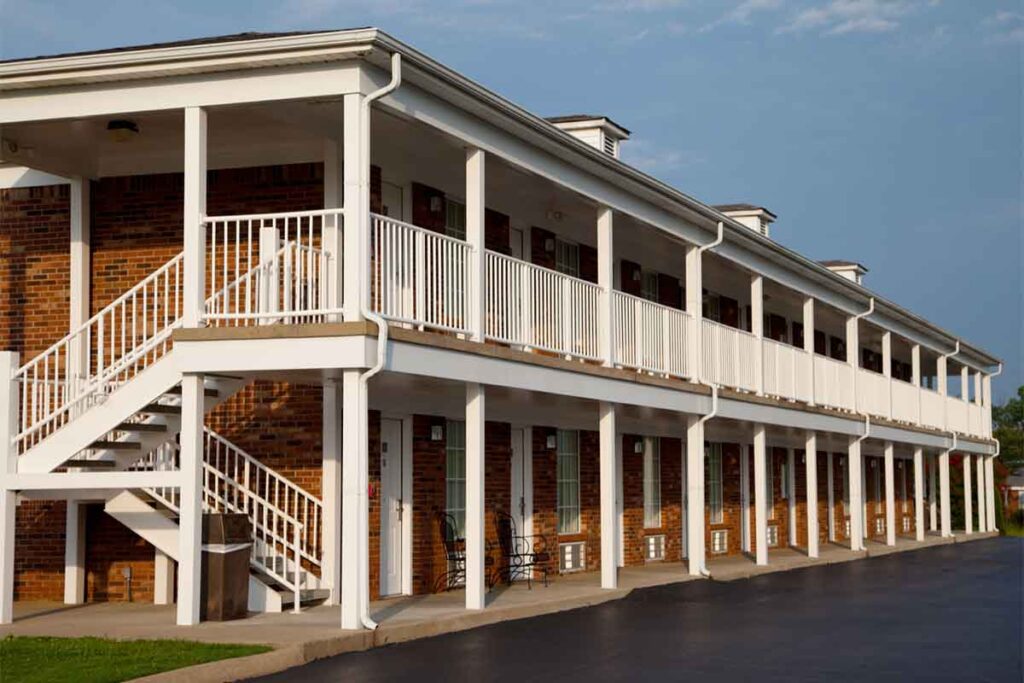 Apart from the differentiating features among hotels, motels, and inns, each lodging accommodation also has its advantages and disadvantages over the other.
Hotels
Benefits: Among hotels, motels, and inns, hotels are generally more spacious, which often translates to a wide array of amenity choices and more staff ready to assist you. Easy access to 'necessary' locations is another perk if you choose to stay in a hotel. Often situated at the heart of big cities, most hotels are conveniently near commercial spaces and travel destinations.
Drawbacks: While not always, hotels are 'common grounds' for business travelers. So, if you're traveling for pleasure, the constant hustle and bustle may pull you away from a relaxing ambiance. It's also wise to recognize that quality and quantity come with a price. If you're traveling on a budget, booking your accommodation at a hotel couldn't be your first choice.
Motels
Benefits. Most motels are built low. Especially if you're a 'heavy packer,' moving your luggage around won't be back-straining when you check-in and out of a motel. They also give complimentary breakfasts often, translating to dollars saved for shopping or souvenirs.
Drawbacks. Internet access (view on Amazon) has become a necessity, so almost every business establishment offers the service. But given the motels' location, you might experience fluctuating connections. Whether you're staying for business or pleasure, it would be frustrating not being able to access your email, or your live feed for your vlog won't upload.
Inns
Benefits. Among hotels, motels, and Inns, staying in inns won't let you dig deep in your pocket. Meals (even complimentary ones) and room rates are dollar savers if you stay in an inn. Likewise, inns offer a more relaxed ambiance compared to hotels and motels. If you're a casual dresser, there's a lesser chance of bumping into someone in suits.
Drawbacks. Since most inns are situated away from cities, they lack the luxury of hotels and perks offered by motels: no fancy meals, no pools to dive in, or recreational spaces. If you're up for a nightcap, you may have to walk or drive away from the inn to get your fill.
Conclusion: Hotels, Motels, and Inns: What's the Difference?
How could you differentiate hotels, motels, and inns? Here's a review of their differences:
Purpose
Cost
Structure
Rooms
Stay Duration
Amenities
Services
Space
Location
Whatever accommodation you choose among hotels, motels, and inns, peace, enjoyment, and relaxation should be part of the equation. The differences that set each accommodation apart have individual merits based on what you want, need, and expect. As long as those are met, you already made an intelligent choice.
References: